Tech Thursday: Mailbird
One email (and everything else) program to rule them all...
Managing email is hard enough; managing multiple emails that all have different login sites, plus calendar invites, LMS communications, Google Hangouts, Tweets, WhatsApp, Slack, to-do lists…it can be overwhelming. I've shared before some of the tools I use for collaboration & communication, and how I help students communicate with me more efficiently. All these tools and strategies help, but I still found that I had too many different tools to manage & use efficiently. So I did some more research, and at the end of the summer I found one that is pretty amazing for collecting many of the programs I use into one space. I've been using it for over two months and still am really pleased, so I thought I'd share it here.
This is an email program that connects in your other applications and houses them all in one space - which moved me away from having a bunch of different tabs open for different email addresses, my to-do list, multiple calendars, etc. You just set up the link between Mailbird and whatever other programs you use - and there's a list of 40+ programs you can link - and then you can access it all from within the Mailbird program.
Here's what it looks like: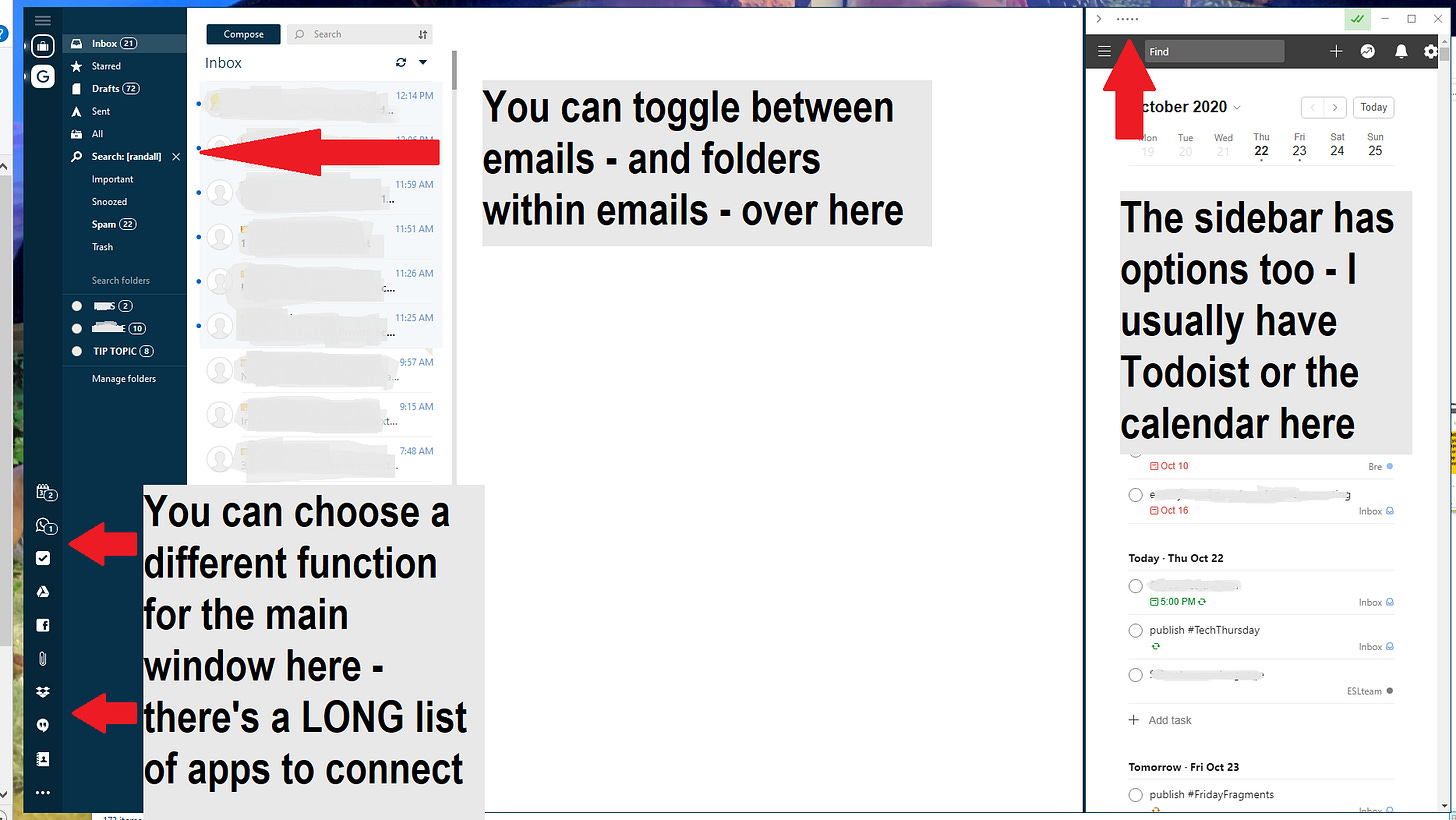 I typically have my to-do list floating open in the righthand sidebar (because if it's open then I use it; if it's hidden away then I just ignore it) and email in the main panel. It's highly customizable, though, so you can switch it around as often as you need. There's also 24/7 tech support, a fairly active & helpful Facebook group, and so very many different ways to customize the interface and how you use it.
Way back in the day I used Thunderbird, and liked it pretty well. Sadly, it doesn't play well with my school email login requirements. If you're not satisfied with Outlook - and, honestly, who loves Outlook? - it might be worth exploring Mailbird.

Past Tech Thursdays
*Full disclosure: This is a program you have to pay for, after the trial period. I paid for my own subscription; using my referral link will get you a one month free trial and if I get a certain number of referrals I get some free access as well (but I think only to their professional plan, which I don't need) - since I've already paid up-front for the year, any benefit I might get is pretty far down the road…