Discover more from Tips for Teaching Professors
Resources, teaching tips, best practices and professional development opportunities for faculty.
Over 2,000 subscribers
Tip: Midterm Feedback
A quick, anonymous survey can help you better understand your students & get feedback you can realistically implement.
Using Small Group Individual Diagnosis to Improve Online Instruction by Jennifer H. Herman & Melissa Langridge explores a faculty development technique "designed to provide instructors with mid-semester feedback from students about the quality of their instruction." The process they outline - and explain how to adapt for online learning - focuses on having an external facilitator to come in and conduct mid semester "check-ins" or other observation or evaluation activities designed to help instructors improve their teaching.
There are ways to conduct this type of midterm check in without relying on or coordinating with external facilitators. I use an anonymous Google survey to ask targeted questions about class activities and materials (there are ways to administer an anonymous ungraded survey in Canvas as well). In a normal semester I do this at about the midterm point and again at the end of the course, to add to the information that the formal course evaluations provide. This semester I did it at week 4 of a 13-week course, and will plan another check-in around week 8 or 9.
When I create my survey I ask a combination of multiple check box questions and short answer questions, and try to keep the survey quick and easy to complete. Each time I gather this type of feedback, I learn important things about how class is going for my students, and what I can do better. Sometimes the feedback isn't actionable - but it's something that at least will help me better understand where they are coming from, and lets the students know that I care about hearing from them.
Sadly, not actionable feedback…

With these surveys, I have two main goals: better understand my students and ask for feedback that I can realistically implement.
GOAL 1: Better understand my students.
This semester I asked questions like:
Do you wish everyone would turn their video on?

Do you use a laptop or desktop computer for class?

Do you use a tablet or phone for class?

Are you comfortable with the technology we use in class?

Are you watching all the videos?

Are you reading all the outside materials?
These aren't questions I can do anything to change, necessarily, but they do help me to better understand some of the challenges my students are facing and where they are struggling with different components of the class. If I get a lot of students telling me they wish everyone would turn their video on, then I can gently suggest that to the class. If a lot of students are having technology challenges, then I can dive a little deeper into the types of challenges in a class discussion - and it's helpful to frame these as "most of you said that you are struggling with X" so that everyone knows at the start of the discussion that this is not a problem they alone are facing.
GOAL 2: Ask for feedback that you can realistically implement
.
I think it's important to focus on actionable feedback because, first, the goal is to actually make the experience better for students. I also believe it's frustrating to students to take the time to fill out a survey and then to see nothing change as a result. So I ask questions about things I can change, like…
Do you wish we did more individual work time?

Do you wish we did more group work time?

Do we need a longer break in the middle?

Would you prefer 2 breaks instead of one break?

Do you wish we did more group work time OUTSIDE of class (more discussions, more peer work)?

If you could change one thing about our class - something that is in my power to change! - what would it be?
Even if their comments point to things about the course that I'm not able to change, as in the example above where the student wants me to change the class meeting time, I try to report back what some of the comments were and address whether that concerns addresses something that can be adjusted. This particularly comes into play with workload expectations. If I ask a question about workload, I do so to be able to draw it back to the workload expectations that we said is a class at the beginning of the semester.
I also ask them whether they believe they will be successful - and I do this for two reasons. First, this is an excellent overall gauge for how they are feeling, so even if they skip answering the short answer questions, I get this quick snapshot. Second, the simple action of clicking "Yes!" serves as a confidence-boost for students. I believe it engages something to affirmatively assert that they believe in their own ability to be successful in the course. I shared research earlier in the summer about how we can contribute to our students' sense of belonging, and I suspect that asking students to commit to their future success might have positive impacts on their sense of self-efficacy.
Six students are confident so far…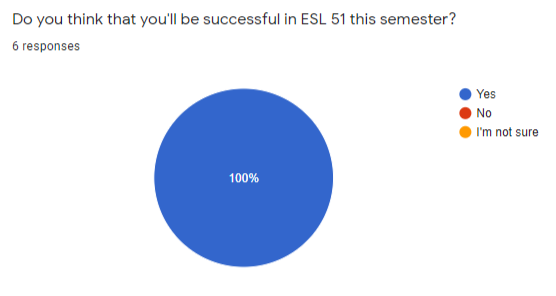 Link to my survey template (you'll be prompted to make a copy for yourself)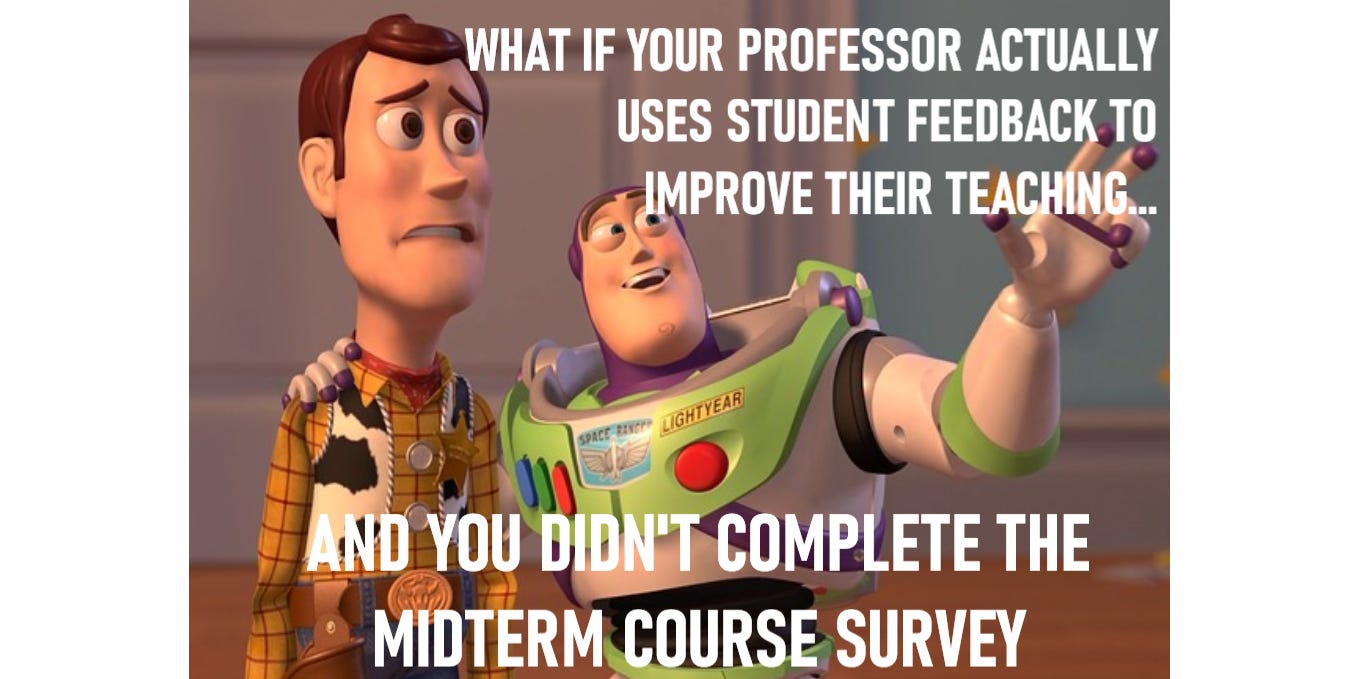 For more examples…
May your midterm surveys be ever in your favor!