Tip: Creative Syllabi
Making syllabi more effective pedagogical documents: jumping on the infographic bandwagon.
[I]f the raison d'être of the syllabus is to make all members of a classroom informed about the boundaries and expectations of the class then it is a genre that seems to be missing its core audience.
My syllabi haven't changed much, in design anyway, in a very long time. I increasingly believe that they are documents which make sense to me as the creator, but which are not engaging or even helpful for students. As I have taught more online and hybrid courses, I've moved away from handing out paper copies of the syllabus on the first day and instead share my syllabi in electronic form - but, I don't think that turning a static document into a series of LMS pages does enough to address the fundamental flaws in my syllabi. As summer semester wraps up, I wanted to explore some options to make a syllabus (1) a better pedagogical document, and (2) viewable online and particularly on mobile devices (since, as I wrote last week, so many of our students will need to rely on a cell phone to access course materials this year).
If we want a syllabus to be an effective pedagogical document — one that engagingly introduces our course and entices students to fully invest in it — we should probably change the way we think about that document.
Inspired by one lovely infographic-style syllabus created by Matt Salomone (shared in an earlier post on specs grading), I found some templates and other examples that meet my criteria of effectively communicating course information and being more visually appealing across devices, and wanted to share just a couple here. Note that the images shared below have been cropped to focus on certain aspects - just click on each image to view the full syllabus.
First, templates. I am not a designer, so beginning with a template is key for me. Here's a set of infographic templates for PPT and a different Canva collection of templates that are fun starting points.
Example 1 & 2 - Weekly Schedule. I like this example because of the layout of his weekly schedule (click the image to view the full syllabus). I think students appreciate having a sense of how much time different tasks may take - at a minimum, it shows that the instructor is being thoughtful about the work students need to put in.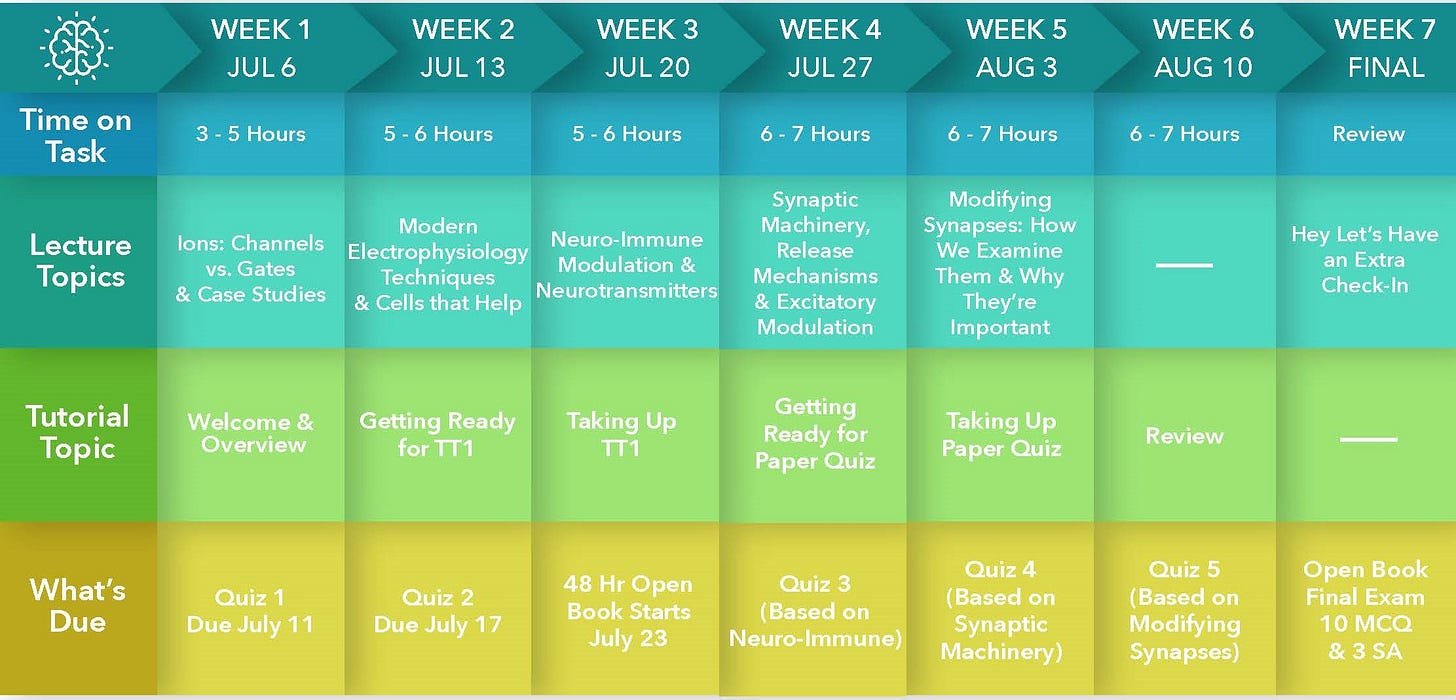 Image credit to
William Ju,
Univ. of Toronto
I appreciate the consistent weekly expectations of students, particularly for online courses (click the image to see the full weekly schedule, which outlines tasks for 4 days each week).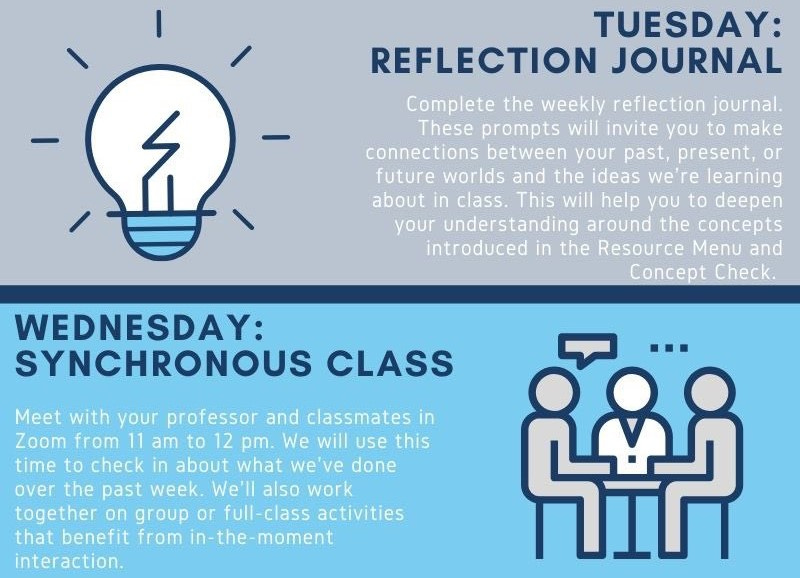 Image credit to
Lindsay Masland
, Appalachian State Univ.
Example 3 & 4 - Grade Components. I like these two examples because of the visual presentation of course grade components (click each image to view the full syllabus).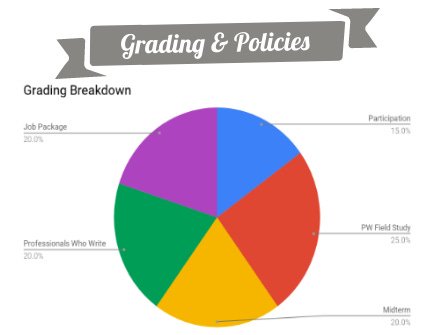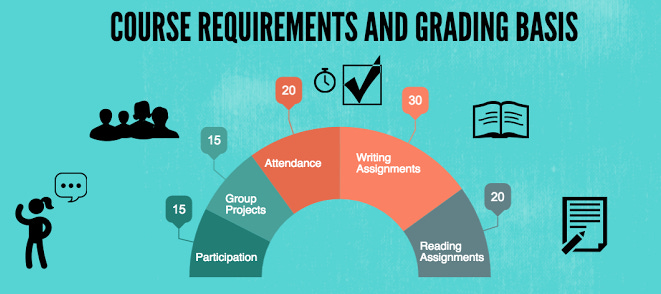 Example 5 - Building of Weekly Tasks. I like this example because of the explanation of what each weekly task is, plus a helpful step-by-step map that corresponds to the text explanation (click the image to view the full syllabus).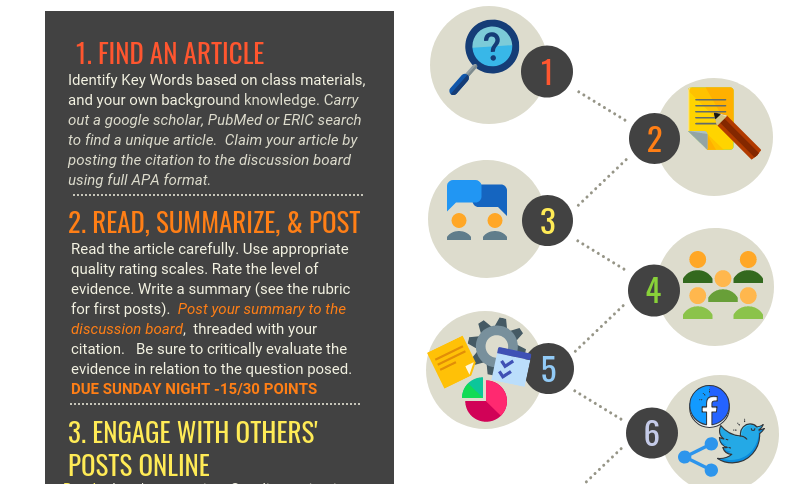 —
Beyond simply redesigning for better communication and visual appeal, there's also the need to engage students more actively in working with the information presented in a syllabus. I've often had some form of syllabus quiz or discussion on the first day - typically as a small group activity - but with limited together time in hybrid/remote synchronous classes, I'm exploring other ideas. I came across Interactive Syllabus - a model which essentially turns a static document into an interactive quiz. I'm still experimenting, but I think a combination of infographic-style document plus interactive quiz might be the way to go for fall.
I have a list of additional examples, templates, and articles at the end if you want to read more about syllabus design. I would love to see your creative examples as well. Thanks for reading!

P.S. Post edited to include a different example #3, based on comments that the example I had selected wasn't actually very clear - thank you for the feedback!
For more examples, templates, and articles on alternative syllabi…